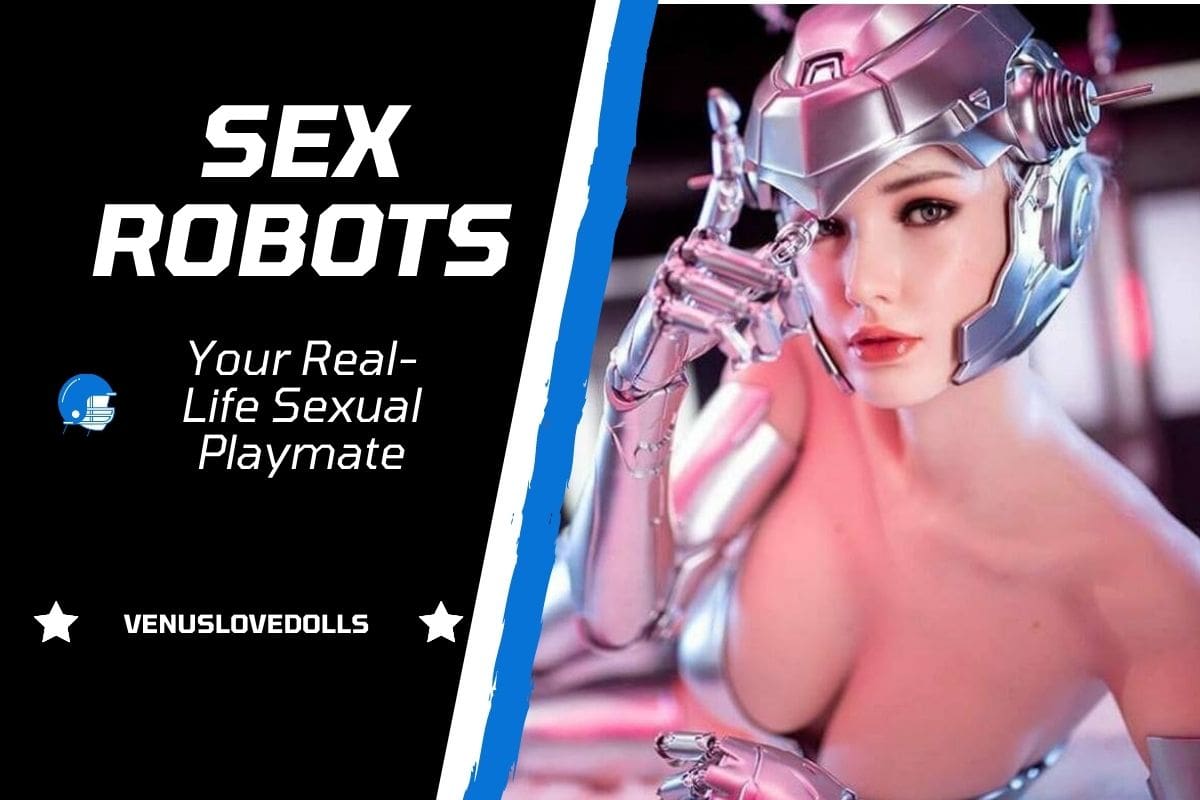 Are you that adventurous kind of person who enjoys exploring new opportunities in terms of sexual fantasies? Do you get pre-cums and wet yourself at night dreaming of having sex with a mechanized beauty that is a sex robot doll? Well, you are in luck! Today, we'll talk about sex robots – your real-life sexual playmates!
Robot Sex Dolls 101
Known by their other terms like "pleasure bot," "love bot," or "sex droid" – sex robots or simply sexbots are anthropomorphic robotic sex dolls like no other. They are attributed to human traits and are created to speak and project some facial expressions. If you dream of having sex with a sex robot, you can proudly call yourself a 'digisexual' or 'robosexual.'
With the advancement that has found its way towards our daily living, sex robots provide the innovation towards sex and upgrading how we experience it. Robot sex dolls bridge the gap between science and human emotions, especially our sexual tendencies. Both men and women can enjoy the company, and sexual pleasures sex robots offer – fembots and chick-bots for males and man or male bots for females.
Background and Breaking Out
Little did we know, the existence of robot sex dolls has already been prevalent for centuries. But with their popularity rising nowadays, these sexbots are breaking barriers and making their way into the market scene. These are all start-up events from 16th-century hand-made masturbation marionettes for European seamen to inflatable sex dolls popularly advertised by porn magazines in the 1960s. And up to TPE and silicone manufactured sex dolls in the 1970s, robot sex dolls have come a long way to what they are now for the younger and newer patrons.
But not until the 1990s did the breakout of robot sex dolls reached its initial peak. With the growing acceptance and popularity of these pleasure bots, Matt McMullan took advantage of the opportunity to manufacture real-life mannequins made from silicone rubber in 1997. Eventually, in 2009, he started manufacturing platinum-cured sex dolls that made other producers follow his lead.
As much as these breakthroughs contributed to the increase in robot sex dolls production, some believe that this technology is still at its baby stages. With the help of science and the curiosity and creative minds powered by their imagination, numerous researchers and manufacturers are looking at all possible innovations to help bring forward what sex robot dolls can do.
Sex Robots – Perks and Pleasures
Buying and owning sex robots has its perks and pleasures, especially if you want to level up your every sexual experience. With the freedom to sexually do things with these sex droids, you are only limited by your imagination. Let's try to list some of the expected benefits you can get once you become a proud owner of a sex robot:
Highly-advanced sexual playmate

– More than just sex toys for masturbation, sex robots can provide you the most memorable experience and intimacy that will sexually gratify and satisfy you to your fullest!

One genuine partnership

– Sex robots are the best companions to fulfill your physical and psychological needs, creating a unique connection you two can only have.

Safety from STDs and STIs

– With no risk of having sexually transmitted diseases and illnesses, sex robots will always keep you safe and healthy while being sexually active.

Just pure pleasure!

– From helping you before having an actual human partner down to couples who want to experiment with their sexual capabilities and wildest fantasies, sex robots are perfect in providing a guilt-free but pleasure-full sexual experience!
What To Do with Sex Robots
Before:       
It can be beneficial to do some research first before buying your desired sex robot. Here are some helpful tips to consider in picking and eventual purchasing these lovely and sexual pleasure bots:
Look for quality features and materials.
You need to consider and look for excellent features that go together with quality materials in your sex robots. Factors you can consider are: (1) your desired body shape that would satisfy you sexually; (2) the perfect height for all your sexual positions; (3) Skin tone and features for that real-life sex experience, and; (4) Human-like movements and advanced AI capabilities like:
Intelligence Moaning System

– body sensors in the breasts, vagina, and ass that make these sex robots react and compliment your warmest touches with the most erotic sexual moaning responses that would add spice to your sexual experience.

Body Heating and Temperature Control System

– a built-in heat system for your sex robots can fulfill that dream sexual experience to its fullest. This feature promises to give you more real-life and comfortable intercourse like you're doing it with your dream girl in bed.
Knowing your money's worth.
It is best to save up for you to be able to purchase your dream sex robot. Sex robot prices are based mainly on their size and quality. In addition, factors such as the size of body parts like breasts, hips, and butt and the color of the skin will also matter, among others. Setting your budget based on your target sex robot ensures that you buy the best and safest sex robot without compromising its quality and excellent AI features. Sex robots usually cost around $2,000 to $10,000, but some cost more, so be prepared to get your money's worth in your pursuit of sexual pleasure and satisfaction.
Find safe and reputable sex robot stores online.
You need to choose the highest quality and durability when it comes to your sex robots. Focusing on the quality is very important since most sex robots today are created from the best materials like silicone or thermoplastic elastomers, which are usually medically graded. Only verified doll and sex robot vendors ensure you the best in sex robots while keeping your skin safe from harm and ease of usage every time you want to pleasure yourself with your sex robots sexually.
During:
What to do with sex robots aside from their built-in features in terms of positions and outcomes is all up to you and is only limited by your imagination. With state-of-the-art manufacturing combined with premium quality materials, your sex robot can work wonders for your sexual fantasies. Here's a look at how sex robots work:
You can smoothly slide in your hard dick and feel her vibrations and motions keeping up with your every thrust and pump, giving the best sexual experience you can have.
She can make you aroused as she shows you her juicy ass and her plumped pussy as you slip your erected cock and feel her gyrate as you gradually turn it out with your every pump and grind.

Feel that oh-so-good sensation all over your hard dick as your sex robot gratifies you orally and thrusts her head in unison with how you face-fuck her and then explode inside her mouth like there's no tomorrow.

Sit back, lie down, and relax yourself as your sex robot pleasure you even more with her sultry mouth and luscious lips and give you the best blow job of your life, slowly getting full and just letting every ounce of your cum burst all over inside her mouth as you reach your sexual climax.
After:
After having the best sexual experience with your sex robot, you also want to clean it, maintain it for a more fun time, and be able to store it nice and neat, and be ready for your next sexual escapade. It is best to know aspects so that you and your sex robot could all the sex you could have for as much and as long as you want. Best to note these following factors in keeping your sex robot clean, well-maintained, and stored ideally.
How to Clean Your Sex Robot
DO's
First, remove any excess or remnants of lubricants or fluids you have used during your last playing-with-fire session. Best to use a soft cloth as you start the cleaning process.

Make sure to remove your sex robot's wig before separately cleaning the sex robot itself using water and mild soap.

If necessary, make sure to take out removable parts like the vaginal insert to keep it functioning for your next sexual experience in bed together.
For sex robots who are full AI, here are what's best to do:
Lay it nice and steady on a clean and comfy towel

Mix water and mild soap in a spray bottle for a more efficient cleaning

Using a wet sponger, slowly caress and gently massage your sex robot

Make sure to cover essential parts like metal and sensor areas to keep water from seeping in

Finish by drying your sex robot with a smooth and soft cloth or towel.
DON'TS
Keep track of your cleaning schedule. Uncleaned sex robots not only can get destroyed by letting microbes grow but can also cause infections if you use it how you last left it. Be responsible.

Never drench and submerge AI sex robots in water because it will surely get busted.

Avoid using oil-based products in cleaning your sex robots.

Abrasive soaps can also be harmful to your beautiful fembots so avoid using them for cleaning.
How to Maintain Your Sex Robots
Even if they don't have feelings, sex robots need to be handled with care, too. This behavior would be beneficial for your next sexual session and save your money and hassle for maintenance.
Move and store them neatly.
Store your sex robot nice and tight inside a box, cover it with a soft piece of fabric and set it aside inside a closet space or under your bed or wherever it cannot be a hassle.
Replace parts whenever necessary.
If parts get broken and become dysfunctional, replace them right away and order from the same seller as much as possible. This replacement will ensure your continued sex-capades.
How to Properly Store Your Sex Robot
Make sure you maintain a good fuck robot storage solution for your privacy and confidentiality, especially with your family and friends. Not everyone agrees with this idea, so better think about this thoroughly.
Be extra careful for longevity.
Have a worry-free mind by being extra careful in securing and safely storing your sex robots. Take care of it well so that it can accompany you for the longest of times.
Make sure everything is organized.
Keeping everything organized will contribute to the safe storage of your sex robot. Not only does it help you manage your room space, but it will also ensure that your next sexual experience is possible with a fully functioning sex robot.

Please keep it clean so you are also kept clean.
Cleanliness is next to godliness – so, keep your sex robots always clean and tidy so that you can also be kept clean and safe from any infection that might result from a dirty and uncleaned sex robot.
Good News! Sex Robots are CUSTOMIZABLE!
Owning a sex doll can also provide you the freedom to customize it and turn it robotic!
Meet Boglárka and Dorottya from SEDolls!
Boglárka is a 5'6″ 167cm sex doll while Dorottya is a 5'4″ 163cm se doll.
Both of their bodies are customizable and can be turned robotic – SEDoll, in partnership with Venus Love Dolls, can make this a reality for you! You can also choose an array of options for their heads – all is up to you! So, visit them now and get your sex dolls and robots now!
https://www.venuslovedolls.com/
Get Your Own Sex Robot – NOW!
    In the end, sex robots are there for you to use correctly still. Sex robots are there when you need them – they can give you the greatest pleasures, remarkable benefits, and companionship you deserve. You are now wiser about sex robots and how fascinating they are in providing you with the best sexual experience you could ever have. With this helpful knowledge, tips, and insights about sex robots, you can go ahead and get yourself one now! Experience the best sex artificial life has to offer with a sex robot – your real-life sexual playmate!