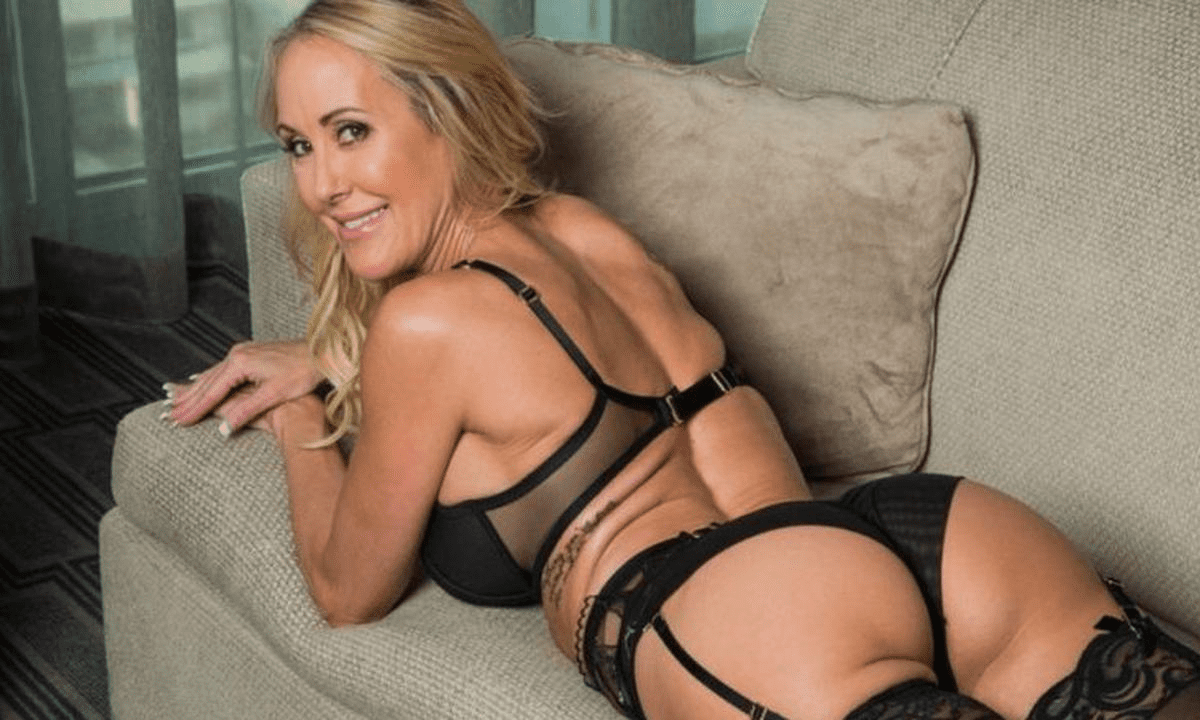 Are you a regular viewer of porn and a huge fan of sexy moms? Then there's a great chance that you might have already known her from your favorite porn sites like PornHub and Moms Teach Sex series. Tracey Lynn Livermore, or famously known as Brandi Love,  is a 48 year-old famous porn actress that has been successful since her appearance in MILF and Hot Wife productions. She's also been nominated in numerous awards and already won two of them as the Best Cougar/MILF Performer. As of now, her net worth says a lot about her success which is estimated to be $8 million.
If you wanna know more about her hot and erotic career, this article will entice you to see Brandi Love with her most popular and hottest collaboration with other porn stars:
Naughtiness Runs in the Family
If what you are looking for is for Brandi Love to play a role as a stepmom, DigitalPlayground has produced a film in which any guy with kinks for hot step moms could get behind, or should I say, get turned on. In this act, Lucas had to adjust with living in a new house with a sexy step sibling and hot MILF stepmom. One sinful night, while her step sister is asleep, Lucas Frost had urges and Brandi caught him jacking off in the middle of the night and offered up her own so he could get some release.
Brandi and Lucas also co-starred in Brazzers' porn film entitled: Making a Mess on Step Mom. The actor and actress portrays the same role in which Lucas is Brandi's step son. The plot starts with Brandi, jogging in the morning on her way home finding her step son jacking off in their living room which eventually leads both of them having their sexy time with each other.
Shh… Don't Tell Your Friend
Do you like finding yourself being aroused when you picture yourself doing it with your friend's mom or when she watches you while you are helping her with grunt house chores and be rewarded by hot and steaming sex with her? Say no more because Naughty America productions has brought you an amazing act wherein Brandi Love played as the sexy mom of someone's friend. Starring Xander Corvus, also a famous porn actor, where he played as a friend of Brandi's son. Giving you an arousing and satisfying performance. In this particular act, Brandi gives herself an amazing solo time wearing her sexy white lingerie without her knowing that someone else is also in the same room as her. She was shocked when she found out that Xander admitted that he caught her touching herself, then it all spirals down to them making out and giving each other a pleasurable time.
Teach Me a Different Kind of Lesson
Have you ever had a teacher who is so hot that you imagine yourself what would it feel like if you make out with her? Well, Brandi will make your imagination come true with her very arousing performance produced by Naughty America entitled: My First Sex Teacher, also starring, Bruce Venture. Together, they have made fantasies of student and teacher affairs into a next level. It starts off with Brandi Love packing up her work stuff in her office because she was fired for being accused of having a sexual relationship with one of her students. She called Bruce into her office to explain why she got fired because of him. However, it lead to them having sex which is the false accusation she got fired in the first place. Since she's already fired from her job, might as well make the most out of it.
Since we are on the topic of teaching, we might as well talk about Brandi Love being featured on Mom Teach Sex series. In this particularly wild scene wherein, Brandi joined her step daughter– Kimmy Granger, alongside her step daughter's boyfriend and best friend– Alli Rae, in a fun card game. While playing on the table, Brandi made her own little fun game under the table with her step daughter's boyfriend, touching him in his crotch. The game turns into a horny teasing and the lucky guy finds out that the girls that he's playing with is interested in his sex skills, so Brandi had to teach these kids some lessons during a wild and adventurous foursome.
There's a fine line between "Hard at Work" and "Haaaard" at Work.
Most of us are having a tough 8 to 10-hour hectic life at our jobs and what we all want is a moment to relieve our stress. Well say your goodbyes to your stress because Brandi Love showed that our sex fantasies at work could also have another plus side. All thanks to another film produced by Naughty America, starring Brandi Love and Van Wylde in a passionate performance wearing their tight and sexy corporate attires. Who comes to an interview without a resume? Well, Van Wylde comes to Brandi's office for an interview with nothing but only himself and his overwhelming confidence to present. However, Brandi Love was not impressed at all by his impression. And so, Van had to come up with another strategy to win her approval. What other way to do that but to impress her with his passionate and dominating "skills".
Do Not Leave Your Wife Unattended.
What kind of a husband ignores her wife's invitation to bed, especially, if your wife is a hot momma like Brandi Love? A bad one. These kinds of husbands get what they deserve: being cheated on. That is what happened with Brandi and her ignorant husband in one of the porn films produced by MILFED. Like our number 1 on the list, this also featured Lucas Frost as the delivery guy who happens to deliver a very special package ordered by Brandi. But instead of the sex toy she ordered online, it was Lucas who can only satisfy her urges inside their bedroom while his husband is clueless to what his wife is doing.
These are only a few of the many sexually stimulating performances of Brandi Love and the rest is for you to enjoy!