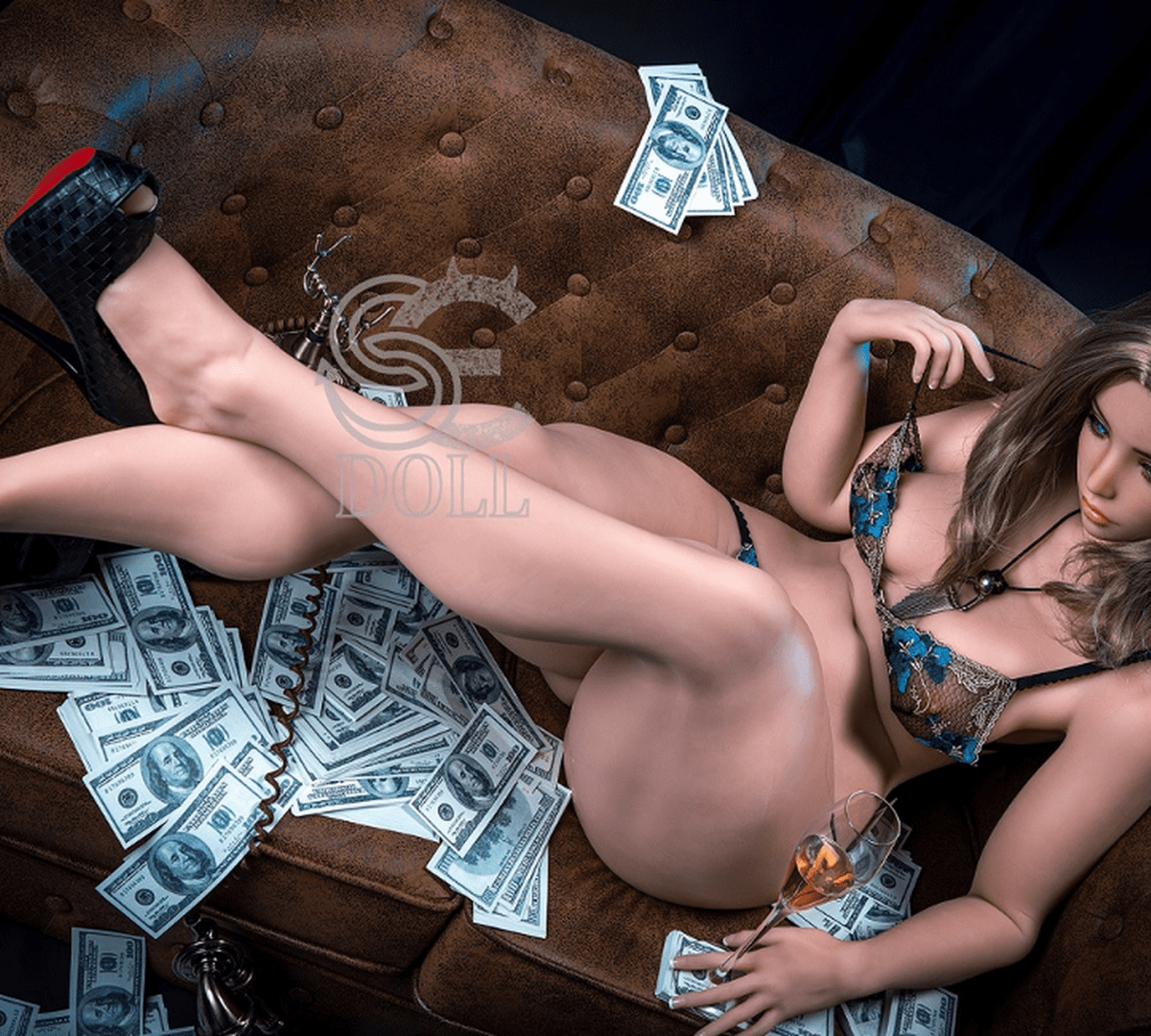 Sex toys like dildos, vibrators, butt plugs, and more are usually made with silicone. This is because the silicone material is environmentally friendly and does not harm your skin in any way. No later allergies, no weird smell, and no sticky feeling.
Silicone real-life sex dolls can be easily bent into any position you want as they are very flexible. They weigh roughly half of a real human being's weight so that you can carry them around easily, all the while feeling like a real human being is underneath you.
Love dolls made of silicone are best for the sexual experience. They are smooth to touch, warm when on your side, and feel like real human skin when you are inside.
Silicone is a polymer material. It is normally used in making rubber materials, utensils, glue, and more. This is why silicone is also used in making lubricants, condoms, and sex rings. People generally get ass and boobs implants to give off a more sexual appeal right; those implants are also made of silicone.
Silicone dolls were initially made with tin-sure silicone material, but as technology progressed, they are now made with a hybrid variant material. The material silicone rubber is used to make sex dolls. This gives them longevity and prevents them from damage. These sexy love dolls are non-porous and stain-resistant. They do not retain humidity too. Meaning, you can climax all over them, and they will not damage, given if appropriately cleaned.
They are rubber-like without the pungent smell of rubber and plastic. Silicone love dolls are resistant to heat and chemicals. Hence the silicone love dolls can be easily sterilized and cleaned.
The silicone love dolls give you so much pleasure without asking for anything in return. You can even take hot steamy showers with them. They lay there and take whatever you can give them; they can take you in any position and keep you warm all the time. You should just clean her in a few easy steps, and you can keep on experiencing mind-blowing orgasms.
You should clean your doll without fail after every use. You may not need to clean the next second immediately, but sitting for long will make the material sticking and difficult to clean. Even when your sex doll has been in the closet for a month, and you are thinking of using them now, be sure to wipe and dust them down. You will be able to see and detect if there are any moisture issues or other problems.
Let's see how to take care of your beautiful sex dolls after each tryst.
1.REMOVE THEIR CLOTHING AND ACCESSORIES
This must have already happened even before you started, but if you decided to have fun with clothes and accessories on, then you might want to remove them before cleaning your doll. Kinky accessories like chokers, harnesses, thigh-high fishnets and garters should be removed. These sex doll accessories may have been great while having sex but need to be out of the way for you to clean your doll thoroughly. The panties she was wearing when you were thrusting into her should also be removed.
It is better to take off the earrings, caps, wrist chains and other accessories too. Think of this as stripping her completely naked and bathing her. The accessories can be washed separately to remove stains and sweat, just like you do with any other clothes. If you wash the doll along with her clothes, sometimes the cloth color can stain onto the material of her body. You do not want her beautiful body in colorful stains from her dress, right.
2.REMOVABLE VAGINA AND ANAL HOLES
Some manufacturers make their dolls with detachable vaginas and buttholes. This is easy because when you climax inside her, you can easily clean without much hassle. If your doll has a removable vagina, be sure to detach it after fucking a realistic sex doll. Then you can proceed with cleaning the hole and her other body parts.
Holes attached to the body can be a bit difficult to clean as there will be limited access and vision while cleaning. That is why dolls with removable holes are more frequently bought. Once the holes are removed, they can be easily washed with soap and disinfectant under running tap water.
3.CLEAN CAVITIES; THEIR MOUTH, VAGINA, AND ANUS
Removable or not, you should have to clean their holes. You may have used their mouth, vagina, or butt for pleasure and ejaculated in them. Even if you used an orifice just for a few seconds, you must clean it. You do not want bacterial harboring on your doll's body parts.
Since silicone material is resistant to chemicals and heat, you can use antibacterial soap and mildly warm water. Take a bucket or container with warm water and mix it with disinfectant soap.
To clean holes, you will need a swab or double-sided brush. Coat the said brush with the water and soap mix. Now insert this brush into her holes, and be sure to run the brush along all her inner walls. Now remove the used brush and wash it off.
Repeat this process a few times, each time changing the water. You must be able to clean your jizz from her insides in this way. You should be sure to dry the sexy love dolls' moist holes after washing them. Moisture attracts bacteria hence do not let it sit.
A shower head is also a good option if you want to clean your doll in the shower. Vaginal irrigators, or douche bulbs, can be used to clean the holes. They come in various shapes and sizes, so you can easily insert them and clean her holes. Squirt water bottles are also used in the same way. They squirt water into the holes and flush out all the dirt and bacteria. Fill these bulbs or bottles with disinfectant mixed water to kill off any remaining bacteria. Putting a towel under her will help absorb any remaining water or dirt while cleaning.
4.CLEAN YOUR DOLL'S FACE AND BODY PARTS
The face of your doll is a very important feature. All sex appeal is lost if your doll's face is covered in stains and ruined makeup. Asian silicone sex dolls have beautiful doe eyes and pretty lips. You should make sure they stay like that. Due to sweat while having sex or due to ejaculation after climaxing, the face of your doll may be affected. Clean the face just like you do with other body parts.
Fill a container with fresh warm water mixed with disinfectant. Take a smooth hand towel and dip it in the water. Slowly run the damp towel over her face removing all the stains. Be careful not to be too hard near the eyelashes. If your doll is wearing makeup, be sure to use oil-free makeup removers. Be careful not to use oil-based makeup removers as they leave behind stains. We do not want more stains from the products you use on her face, right.
For the body parts, you can clean them in a similar way. Mini silicone sex dolls can be easily cleaned as they are smaller in comparison, but you should be sure to check thoroughly. Many people miss spots to clean in these mini-dolls.
5.CLEAN YOUR DOLL'S HAIR
A simple shampoo and water must be enough to clean your doll's hair if there isn't much mess. But dolls with removable heads and wigs need cleaning as you might have gone rough while holding her hair. Use a mild shampoo to get off any sweat or jizz from her hair. Some people even use shampoos that come in aerosol cans instead of the more traditional way.
Many online sex toy stores manufacture their dolls with real hair. This will give the customers a chance to braid and style the doll's hair. These dolls' hair must be cleaned carefully after every use without fail. Do not ignore the hair because bacteria can grow there. Pubic hair needs to be cleaned for sure. Be sure that no remaining ejaculate, sweat, or dust is present on the pubic hair because the area will be very sensitive to spread the infection to you too.
When cleaning wigs, remove the sexy love dolls' wigs and wash them with shampoo under running water. You can submerge it in a bucket of cold water mixed with soap and stir it. Remove the wig in the water for some time to soak it. Now rinse the wig with plain clean water to remove the soap or shampoo.
After washing her hair, be sure to air dry or blow-dry the hair. Then you can use a wide-toothed comb or hairbrush to remove any knots in her hair. You should wash her hair at least once a month, irrespective of how many times you spoil her hair.
6.DRYING YOUR SEX DOLLS
Drying your silicone love dolls is a crucial step. If not dried, the moisture accumulates bacteria and forms molds. After washing and cleaning, each part of her should be dry and free of moisture. You can either air dry them or make them sit under the sun to evaporate any moisture. As privacy is a concern, you should use more subtle means to dry her.
A dry cotton swab or tampon can be inserted into her holes. This will soak in any remaining moisture and leave the holes dry. Make sure that her legs are widespread so that they dry more easily. You can run a dry towel over her body to wipe off the moisture. You can also use baby powder or talcum powder. It will soak away all the moisture and leave a good fragrance.
Electric hair dryers can be problematic once your doll's hair is attached to her body. The current can react with the material and harm the silicone material.
7.REMOVE STAINS
If by mistake anything left stains on your real life sex dolls skin, be sure to clean them away as soon as you can. Some stains dissipate on their own, while some others are hard to remove. Here you should be careful and see that the products you are using will not react with the silicone material.
You can use a stain removal cream. Dab the stains with the cream and let it sit for some time. Then gently wipe it off with a dry towel or napkin. Only use spirits and mineral stain resorts as a last resort as they can sometimes harm the doll's skin.
8.HANDLING AND STORING YOUR SEX DOLLS
While carrying the doll, do not hold her at the joints like head and elbow as they may detach if much force is applied. You can store these silicone dolls folded or straight. Sharp objects usually do not affect these silicone love dolls, but it is always better to be safe than sorry.
You can store them in cold or warm places, but you can't store them in places with too much heat. The dolls are resistant to tear but the clothes and accessories are not. So be careful with the clothes. You can buy new ones if the old ones get spoiled but still.
9.LASTLY, DOLL THEM UP HOWEVER YOU WANT AND HAVE FUN
You have now cleaned your real life sex doll , and she is sitting in a safe place. Now you can dress her up however you want. You can buy more accessories from online sex toy stores and dress her up. Get her a new wig, a new pair of lingerie, or new boots. You can change her eyelashes and makeup too. You can change her lips from bright red to pale pink and all your favorite colors. Your doll is now in your hands and is well taken care of. So, go get it again and give yourself the pleasure that you always crave.