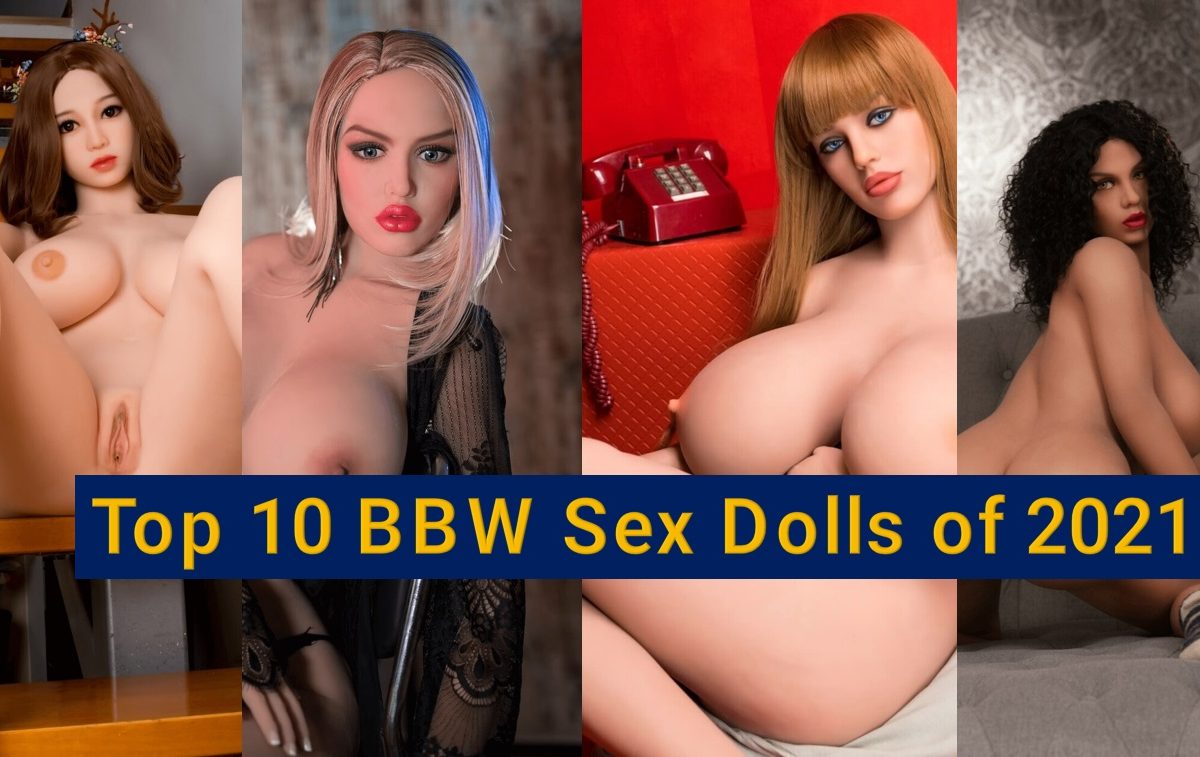 Do you always fantasize yourself grabbing onto some hot thick thighs and some big breasts while you dig in deep for that pleasurable sexual experience? If you are, Big Busty Women (BBW) sex dolls might just be what you need on your bed right now.
BBW sex dolls have curvy bodies, thick thighs, and voluptuous breasts. No wonder more and more men are starting to get hooked on BBW sex dolls to fulfill their fantasies.
And to get you started, here's a list of the top 10 most realistic BBW sex dolls you should get your hands on.
Marisol
Starting off this list is a good doll if you're just getting into the BBW craze. Marisol gives you the right amount of curves and thickness, just enough to grab on as you thrust your manhood into her. Her delicate face and rather slimmer upper body give you an illusion of innocence, making you want to have her in bed even more. Not to mention her inviting perky nipples, waiting for you to caress them, and her long silky black hair ready for you to grab on to.
Marisol stands at 161cm or 5'3" and she does have Asian features, hence the short height. So if you're looking into having a busty and curvy Asian companion, Marisol should be on your list. She is made of high-quality TPE material and is designed and produced by WM Dolls.
Let Marisol wait for you at the door, wearing her sexy flowy dress that just hugs her body in the right places, and slowly slip it off right as you enter the door, and enjoy her nice smooth ass, mouth, and vagina, all yours just waiting to be filled up. You can also put her in different poses for maximum pleasure.
Kyra
This one is a true blue BBW, curvy frame, extra-thick thighs, big boobies, and a hole-lot of lovin. Dallas is the definition of a blonde bombshell, waiting to just erupt out of her clothes and have you take her your way till you blow up. Her American features are a staple in most mens' fantasies, and she's just ready to help you fulfill as many of them as she can. Kyra can be bent to poses that only your imagination can think of for your own personal pleasure.
Kyra is a TPE doll made by 6YE, she stands 5'6, with a bust measurement of 95 cm and a hip and waist width of 96cm and 40cm respectively. Kyra vital statistics is just right for you to dominate over her. This BBW TPE sex doll is the perfect curvy companion, especially the curve of the arch of her back when she's bent over taking you all in.
Her lacy robe is just waiting for you to tear it wide open so you can have her your way. Bend her over, or have her spread those thick juicy thighs, Kyra can do anything. Don't let her tall height fool you, cuz Kyra can take you up on different levels of pleasure with her realistic vagina, and perky nipples, and of course her money-making thighs and hips just waiting for you to grip on as you give her your all.
Yareli
This lil'mama will surely make you work on her extra good. Yareli's coke bottle figure with extra-wide hips and large breasts, big enough for you to lose your mind in them, is the epitome of BBW Sex dolls. This doll checks all the boxes: thick thighs, big breasts, and an ass just waiting for you to grind on. Not to mention the crevices that her large breasts and thighs make, just waiting for you to slip your hands in and caress her as you fill her up.
Miya is a silicone sex doll made by YL dolls and she stands at 5'7, but her tall height just cannot equate to how voluptuous she looks, and how hard you can and will get for her. Yareli's darker skin tone just makes her this ebony enchantress waiting for you to coil yourself around her beautiful body.
Yareli has a cute popstar vibe, standing with her comfy socks and beautiful curly hair. But don't let that innocent and angelic face fool you cuz she can pop and lock right on top of you till you erupt in her. Have her pose in various positions that you too can maximize the pleasure and company of each other.
Amaris
Breasts for days. Now that's what Aahna brings to the table. Or you can put her on top of the table then go on from there. If you want a petite girlfriend with some extra meat on the bone, then Amaris is who you're looking for. This lady is sexy enough for you to toss in bed but gives you a lot to grab and fondle with, especially her big breasts just calling out to you, your hands, and even your mouth.
Amaris's selling point really is her tall height and H cup breasts, big enough for whatever you got planned with her all day and night. She stands at 5'8, and weighs 45kg, and is produced by WM dolls. So if you really have a thing for tall girls with big breasts and virtually no thigh gap, then she's got you covered.
Have her sit right up in front of you, and admire how her breasts drape down on her small frame as she just gazes on you with that innocent face. Slowly part her thick thighs and enjoy the rest of the night, as you will be taking her places more than the bedroom.
5. Annabel
Everybody loves a sultry brunette. What more if she has thighs thick enough to tease you by hiding her inviting vagina and big breasts that overflow from your own grip. That is just the tip of the iceberg for Annabel. This American beauty gives you the mom next door fantasy. You watch her from your window as she bends over her oven taking out her freshly baked cookies, as you fantasize eating her own cookie.
Annabel is made by WM dolls and stands at 5'2 with a full bust length of 100cm. That's 100 cm waiting for you to touch and caress with. This busty lady is just calling for you to play with her boobies to your heart's content. But besides what's happening upstairs, Annabel does pack a lot downstairs, with her thick thighs and smooth vagina, you wouldn't need to get yourself started cuz she can turn you on from a mile away.
As mentioned, Annabel gives you the mom next door fantasy, slip in the back door of her house right after she comes home doing errands, and make her gag and moan as loud as she can just long enough till the kids get back home from school. This BBW sex doll will surely fulfill every guys' MILF fantasy.
6. Arlette
There's just something sexy about a redhead, and here's one for you. Arlette is your college girlfriend who has quirky interests like zodiac signs, plants, and maybe even BDSM, who knows? This sexy redhead gives you curves for days, from the shape of her big boobies to her perfect coke bottle waist, thick ass, and long legs.
Arlette is manufactured by WM dolls, and stands at 5'6, perfect for those who prefer girls with average height. Arlette has a packing H cup book size, big enough for you to play and grip on. With her taller frame, there are basically more positions you can do, and more areas the two of you can reach over on each other. And of course, her nice smooth ass is just there waiting for you to devour and even give a smack on.
Arlette gives you college girl-next-door vibes. You see her in coffee shops, way back in the corner tucked in reading a book while sipping a hot cup of coffee. But you also see her bent over showing you her nice smooth vagina, waiting for you to take it like her hot cup of coffee.
Carolyn
Another American fantasy, a southern belle. Carolyn gives you not just corn on the cob, but a whole plate of southern goodness, with a nice buttered muffin on the side. This beautiful lady is the perfect companion if you want to go more than house horseback riding. Carolyn is used to working on the farm with her bare hands, so allow her to do the same job on you.
This beautiful southern belle is made by WM dolls and stands at 5'8 with H-Cup breast size, and like down under her waist and hips are 59cm and 110cm respectively. Carolyn is the girl who knows how to work hard and has done the work in the barn, from plowing the field to getting plowed, the possibilities are endless with this beautiful lady.
After a long day of tilling the fields and milking cows, let Carolyn milk you dry. Run wild with your fantasies as this southern belle can be bent into any position that you have in mind. After all, there's nothing like some good 'ole southern hospitality.
Lily
Asian women have a unique sexiness that can make a man go crazy, and Lily has just that and a whole lot more. She gives you the BBW fantasy of thick thighs, huge breasts, and a whole lot more meat on the bone, with Asian features, veering away from the standard sleek and slender Asian women. This lady will give you a lot more to grab, caress, and fondle with as you two enjoy long nights or days together.
Lily is a silicone-injected doll produced by Iron Tech dolls. She stands at 5'4 and has a full bust measurement of 96cm. Now that is a lot to take in and play with. If you want an Asian girlfriend that exudes both innocence and naughtiness, then Lily is the perfect choice as her angelic face is paired with huge breasts and hips waiting to be bent over and plowed in.
Have your girlfriend wait for you naked in bed, as she nervously fumbles with her fingers watching you undress in front of her, whisper sweet nothings in her ear as you slowly go in her, and listen to her soft little moans of ecstasy as you two start to make mad love in bed, the kitchen, bathroom or wherever.
9. Emery
There's something about girls who can just hang with the guys that make them extra sexy and attractive. Those who can keep up with you on the court or field and in the gym. Emery is a beautiful ebony BBW sex doll, with luscious breasts and a huge ass. And her athletic body just means you two can go on for hours on end, maybe even on a single breath.
Mary is produced by IronTech dolls and stands at 5'4cm, -cup breast size, and 94cm hip-width. With her Athletic and curvy body, you just know you two can take it to the next level, and be as wild as your hearts can take it. Pretty sure you two would call it a cardio session all the time.
Let her wear your jersey and nothing underneath, perhaps just the hem of the top covering her crotch. Make her bend over and glory over her nice supple ass just waiting for a good spanking. Start your cardio session with a few good pumps and start raking in those reps and sets, and make sure to cool down right after so you two would have more time for round 2 or 3.
There's a BBW Doll for Everyone
BBW sex dolls come in all shapes and sizes which is why there's gonna be one for everyone's fantasy that can drive any guy crazy. It has to be those thick thighs covering their sweet vagina, waiting for you to pry them open and partake of them, or those inviting huge boobs just waiting to be played with. But one thing's for sure: whatever it is, there is just so much more to love with a curvy BBW sex doll.