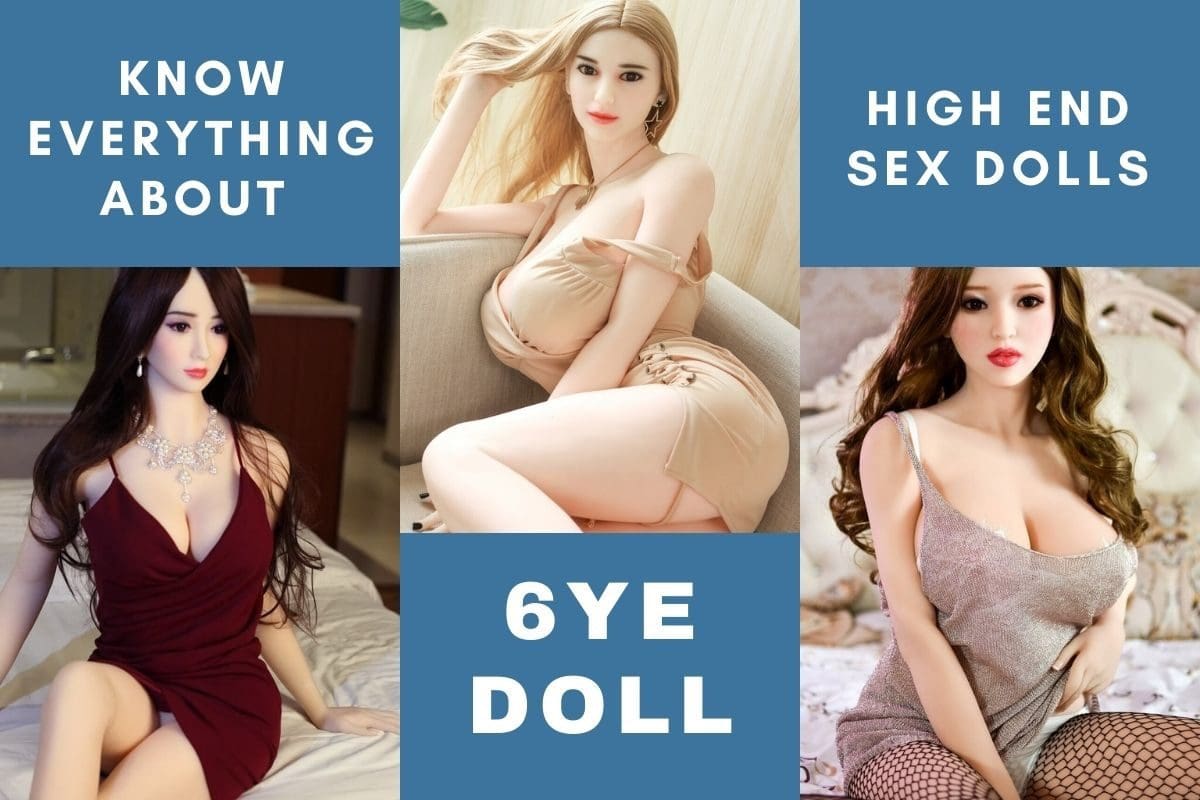 Sex dolls are very popular these days, and the demand for premium quality love dolls is increasing day by day. They are an enormous step forward in technology and are sexy, bold, and beautiful. The sex doll manufacturers like 6YE DOLL are developing super realistic sex dolls to fulfill your wildest fantasies. 6YE DOLL sex dolls are trendy among people worldwide due to their quality material and human-like features. The quality of your sex life is a full guarantee with these sex dolls.
Let's find out more about 6YE DOLL and their love dolls!
About 6YE DOLL
6YE DOLL sex dolls have become the most trustworthy brand in development in recent years. This love doll company is known as Dongguan 6YE Electronics Technology Co.Ltd. Its Chinese name is Liuye and is worldwide famous as 6YE DOLL (old name). The company has over 7 years of experience in producing the best sex dolls for men and women. In addition, they manufacture top-quality TPE love dolls and have a TPE factory in China. Highly skilled and experienced professionals at 6YE DOLL are specialized in producing premium love doll models. They carefully focus on every detail of the doll to make the love dolls look like a real human. 
Features of 6YE DOLL
All sex dolls of 6YE DOLL are made of medical research-grade TPE material, which is also known as virtual skin.

The appearance of these love dolls is realistic, soft, and elastic. The feel and texture are similar to a real man or woman.

The interior is assembled with stainless steel metal bones, making the limbs flexible and offering soft movement to love dolls.

Perfect vagina and anal placement for easy access
The whole team of 6YE DOLL is hard-working and tries their best to provide the best sex dolls.
What Makes 6YE DOLL Sex Dolls so Great? 
The limbs of 6YE sex dolls can move in any direction. In addition, the skeleton of these dolls offers a human circular motion. 
6YE Premium dolls have a great natural smell as they are made of TPE material.
All sex dolls of this brand are durable and last for years if stored properly. 
Highly realistic and detailed
The dolls have realistic labia and anus with a focus on every single detail. 
Quality does not mean expensive! 6YE Doll is committed to helping men and women fulfill their sexual desires. The company sells these high-end sex dolls at reasonable prices.
As mentioned above, 6YE sex dolls bring you many options for realistic sex dolls. They have everything, from lifelike love dolls to torso sex dolls. Moreover, you have many options for different body styles, faces, wigs, eye colors, and more.
With such diverse choices, the company strives to cater to customers with different sexual desires. 
High-End Sex Dolls from 6YE DOLL
6YE Doll manufactured high-end sex dolls with TPE material. These are some of the best quality TPE sex dolls available in the market. TPE stands for Thermoplastic Elastomer, which is a mixture of rubber and plastic. It can be stretched many times and will return to its original position right away. It is very soft and can hold various positions because of its flexibility. Moreover, these TPE sex dolls are affordable and can give real-life sex experience. Are you looking to buy a 6YE doll? Welcome to the wide collection of high-end sex dolls. Here is the list of best 6YE Dolls that you can choose to buy to live your fantasy.
Asian sex doll
6YE produces the best Asian sex dolls to fulfill your sexual desires. The company pays attention to every detail for creating a sex doll that looks exactly like an Asian woman. Here are the famous Asian love dolls of 6YE Doll.
Eleanor is a cute Asian girl.
She has a charming face and long silky smooth hair. Her body features are very lovely big boobs, deep curves, and sexy thighs. The vagina of this Asian sex doll feels precisely like a real woman's vagina, and she also has a sexy butt that's very tight. 
Her hands and feet feel like a real female. Finally, her skin is made of TPE material and inside her is a steel skeleton, so you can enjoy sex in any position with her. 
Aurelia is a sexy doll made for those who've always wanted to have an Asian girlfriend.
It features a life size body with a big breast and full sexual capabilities. One of the best things about this realistic sex doll is the availability of custom options.
You can choose her skin tone, hair length, eye color, boob size, and more to make her look like your dream girl. 
Joelle is a young woman with luscious lips, silky hair, attractive boobs, and a vagina. She is a sensual sex doll and a committed darling. Suck her round nipples, kiss her and penetrate deep into her to make a memorable moment.
You can enjoy sex for hours and can make any sexual positions with this sex doll. It is easy to handle, carry and store as well. This love doll has everything you need to live your fantasies.
She is made from high-quality material and is safe to use for everyone.
Blonde sex doll
Classically beautiful, intriguing, and sexy, the blonde sex dolls are here to fulfill your sexual needs and desires. The hot blonde sex dolls of 6YE Doll have metal skeletons and realistic-looking features for your pleasure. Take a look at the hottest sex dolls with blonde hair.
Yui is a true blonde beauty from head to toe. Aside from her silky blonde hair, her face and skin tone resemble a real blonde woman.
Her breasts, super-tight waist, and meaty ass can attract any man in minutes. She is an amazing lifesize sex doll that is certified to delight all your sexual desires. You can imagine her sucking your penis, licking your body, and whispering into your ear all night long.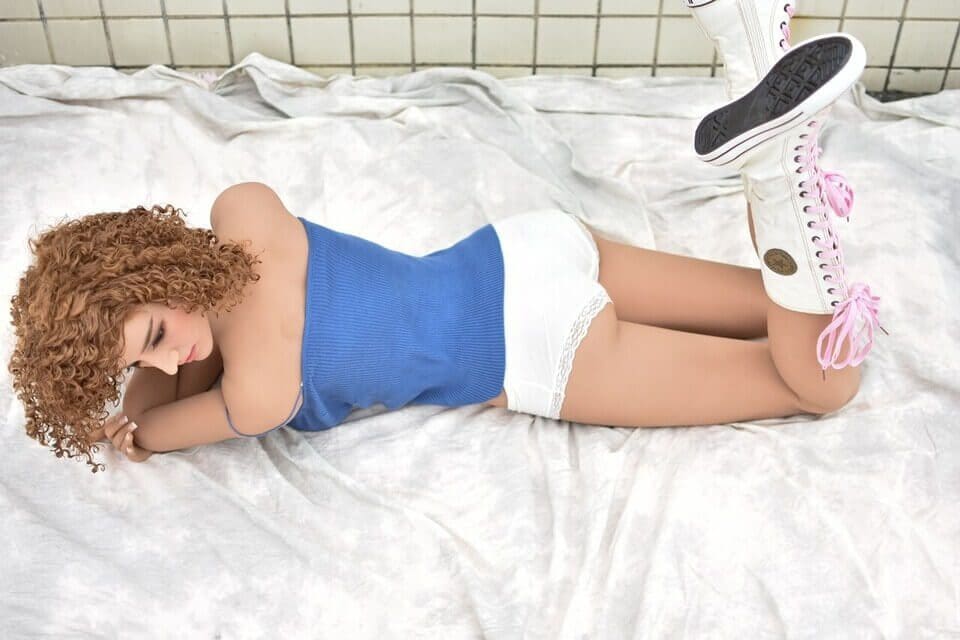 Laurel is a top-class sex doll, every inch of her body beautifully crafted by 6YE Doll to fulfill your sexual desires. She is designed to be every man's dream lady image! Laurel is super classy and has her finger and toenails polished. She is ready to spread her legs or get into the bed with you. Once you get a hold of her, it will be hard for you to take your hands off her. You can get the ultimate sex experience with her for hours. 
African love doll
Are you looking for a lifelike black sex doll? If yes, then 6YE Doll's African sex dolls are for you. The black and shiny skin of these dolls can attract any man. Also, the big butts and big boobs, along with round nipples of African love dolls, look like a real African woman. Here are the top-rated black sex dolls:
Aleena is, without a doubt, the best black sex doll created by 6YE Doll. Not only does she have a pretty face, but she also has a sexy body with curly locks. Her big breasts and butts are the best part about her.
Imagine you are pressing her boobs and kissing her butts to reach climax. She is the one who can fulfill all your wildest fantasies. 
This sexy black sex doll, created by 6YE Dolls, has attractive boobs and butts. Her boobs look so appealing that any man can fall for them. Further, the tight booty and gorgeous face of Liv make her look more beautiful.
She will fulfill all of your sexual desires and will never say that she is too tired to do not to want to have sex. Liv is a fantastic real sex doll made and medically graded from top-class material. 
Male sex doll
In addition to a female sex doll, 6YE Doll also produces one of the best male sex dolls. All these real muscular men with dildos and abs can satisfy the sexual needs of women, gays, and transsexuals.
Standing at 154 cm, Babak is a handsome hot dude that turns heads everywhere he goes. This strong and cute man with an appealing body and face can give you the best sex experience.
His dildo is long enough to satisfy any woman in bed. This top-quality male sex doll is safe to use and causes no issues to your skin. 
Zyrus is a highly customizable male sex doll that is made of premium quality material. It is a lifelike love doll, which gives you a realistic feel, especially during sex. Enjoy the sight of his chest muscles and butt as Zyrus works on you diligently.
Depending on how you want to use Zyrus and your sexual needs, you can choose to have a long dick or a small dick. Both provide the much-needed excitement from never-ending poundings. 
Sex Doll Torso
Half-body sex dolls have everything needed for sex, including head, mouth, eyes, breast, vagina, and anal hole. They offer the same feeling as a real woman's body. Further, these dolls can give you unlimited pleasure day and night.
Anahita has a sweet face and smooth black hair. Her eyes are very attractive, and her lips feel soft and real. The vagina of this half-body sex doll feels precisely like a real woman's, and she also has nice round boobs.
With such a well-sculpted body, manageable weight, and soft boobs made from various materials, your boring masturbation sessions are gone.
Enjoy caressing her plump boobs and squeezing them too. 
Benefits of Using Premium Sex Dolls of 6YE DOLL:
The sex doll assists men in prolonging the time to love-making and can help them overcome the troubles like ejaculation or premature orgasm.
6YE Dolls are also extremely beneficial to improve your sexual position. It helps you achieve the finest penetration that can give you an outstanding sexual experience.

You can enjoy oral sex, vaginal sex, anus sex, breast sex, and many more with premium sex dolls.

Some 6YE sex dolls also have tremendous features such as heating and sounding system.

The love dolls of this brand are long-lasting, lifelong, water-resistant, and skin-friendly.

For men, there is no need to use a condom as sex dolls never get pregnant.
The best part is that 6YE DOLL sex dolls can be customized to fit your most discriminating preferences. You can choose a wide range of wigs, eye colors, face shapes, skin color, and body types. 
How should you maintain your 6YE Doll?
6YE sex dolls are manufactured with excellent adherence to safety standards, and it is designed to be environment friendly too. And, anyone who buys these dolls would want to use them for a long time. So, a high-end sex doll that you have had for a long time will give you the best sex experience every time.
To ensure that you enjoy the benefits of 6YE dolls for years and get value for your money, there are a few ways to maintain your doll.
Always clean the sex doll with a soft cloth and mild soap after use

Do not use any harsh material on the skin of your sex doll

Store the doll in a comfortable space so that it does not get damaged due to scratches from other things

Clean the doll at least once a week with little water and soap

If any part of your sex doll gets damages to repair it immediately to avoid any further damage

Handle your lovely sex doll with care to keep it in good shape for a long time
Final Words
6YE DOLL is a top class brand that produces high end sex dolls. So, if you are looking for premium sex dolls, then go for 6YE DOLL sex doll.