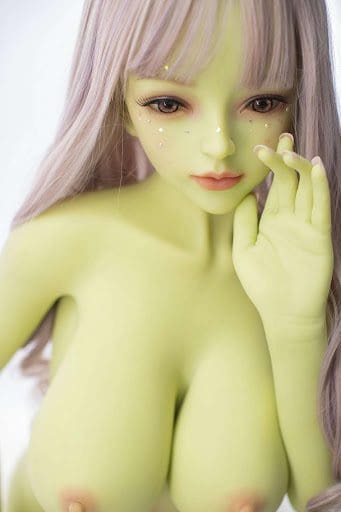 Everyone should be able to explore their fantasies and sexuality in a safe manner. And yes, you should meet your inner sex god without feeling shameful about it too. After all, everybody has kinks of their own and as long as it floats your boat without hurting anyone, you're totally fine. So yes, whatever keeps you hot and loaded, we fully support that! 
And yeah, everyone's so obsessed with sex nowadays. So much so that plain sex is starting to get a little tiresome, don't you think? We get it. It's getting harder and harder to get into your full fantasy.
So, our solution is to immerse yourself into your wildest sexual fantasies with the best Japanese sex dolls! You deserve to finally scratch that sex itch and indulge yourself in your deepest and roughest desires with AXB Doll, the latest collections offered by Venus Love Dolls.
'Cause why choose the "meh" sex when you can satisfy your throbbing manhood with realistic Japanese sex dolls!
Looking for a new way to relieve your sexual appetite? Sex dolls are here!
Feeling like your imagination seems to be "too dirty" for your partner? We get it: you just wanna release all of these pent-up sexual frustrations. And we believe that one way or another, you should be able to find release. Or else it may take a toll on your mental and physical health.
So if you want a hot chick that will always get you going and just knows how to relieve you from these pent-up sexual frustrations, Venus Love Dolls have the solution for you: sex dolls!
If you're having a hard time finding a partner you can explore your deepest kinks with, then sex dolls can make all of your wildest fantasies come true! Trailing along the lines of hyper-realism, sex dolls are your ideal partner if you wanna explore the nastiest sex that are seated in the deepest nooks-and-crannies of your mind. Your sex doll babe can make all of these come true.
Take a peek at Venus Love Dolls' top dolls from AXB Dolls
If you're looking for the safest and most magnificent options for sex dolls, look no further. Venus Love Dolls' newest collection, AXB Dolls has the widest variety of the safest and most realistic-looking sex dolls that are currently in the market. 
AXB Dolls are made from Thermoplastic Elastomers (TPEs) which is widely known as one of the most dermatologically-safe materials to use for sex dolls without compromising quality. They're soft to the touch and life-like, immersing you more into your deepest fantasies. They're easy to clean and have a long storage life. But best of all, these dolls are some of the most hyper-realistic sex dolls offered in the market today. Plus, whatever your kink may be, AXB Doll has got you covered. With all the rave that AXB Dolls receives, you know that you're getting your money's worth.
So, without further ado, here are 7 of AXB Dolls' top sex dolls in their collection:  
Asuka
Petite but seductive, AXB Doll Asuka is known to be the type of girl who has every man she sees in the palm of her sensual hands. So if Japanese porn starlets get you all heated up and ready to pounce, get yourself ready 'cause AXB Doll Asuka will keep you begging all night long!
Asuka is the town's ultimate man-eater. A wink from her deep, sultry eyes will get any man enchanted. She's got this undeniable charisma that can be felt by any man within her radius of sight, too! She'll even give you a quick, flirty pout if you've managed to get into her good side!
The best thing is that she's a total beast in bed. Whatever kink you got, she has no problem giving in 'cause she just wants to get pounded out of her damned mind! And make no mistake — even though she lies on a more petite stature, she knows how to use her assets very well! 
So if you want a long, howdy night with a Japanese sex doll, AXB Doll Asuka is the perfect girl for you!
Azumi
Kawaii! If you're lusting over a bubbly otaku girl who loves playing hard to get, AXB Doll Azumi is your cutesy girl who will get you eating out of your hands! She's definitely gonna leave a mark on you, 'cause she's one of the most realistic anime sex dolls that you can find in the market.
Azumi is a girl that is an innocent-looking countryside schoolgirl that everyone wants to get close with. She's got this demure persona that leaves you in awe. But besides her incredibly wholesome and bubbly personality is a girl who is begging to get plowed out of her mind every single night!
And who can blame men who have been lured in bed by this sly seductress? She's got some big, dreamy eyes that are even more pronounced by her  full and round cheeks that make you want to squeeze, a small button nose and pouty pinkish lips! And boy, she uses those big puppy eyes to get all that she wants!
And talk about a rockin' body too! She's got some porcelain-clear, soft skin that you just want to get a hold of, some modest but supple tits that you just want to cup, a small waist and a big, bouncy ass that you want to slip your manhood into. You just know that she loves it when you plow her hard, so you should be at the top of your performance!
So if you want a really pretty and bubbly anime love doll that'll make you horny 24/7, Azumi will fulfill all of your deepest, sexiest fantasies.    
Leika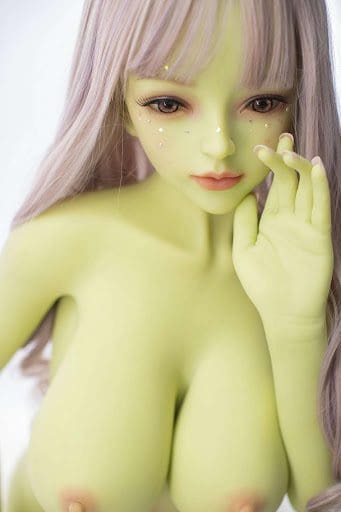 Want to reach some otherworldly level of pleasure? Fear not: AXB Doll Leika is the best TPE sex doll that'll definitely make your mind orbit in ecstasy!
Let's face it: with space ever-expanding, it would be bold of us to assume that we're the only living species in the entire universe. Surely, there's something out there too, something that'll give you mind-boggling levels of pleasure after another. And don't you worry — freaky alien sex is our thing too, you're not alone.  
So if you're looking to get off on your interstellar fantasies, Leika is one badass alien boss that gives into your nastiest fetishes. She's got this long, plaster-white banged hair that you'll wanna scrunch over when you're banging her so torridly. Get a load of her one-of-a-kind beauty with those glossy, pitch black irises, a sharp nose, a naughty heart-shaped lips and that flawless green skin.
Not to mention those intergalactic assets that'll make you wanna reach down to your pants. Looking for long legs that seem to stretch out to infinity? Leika's got it! She also has these enormous tits that you'll wanna motorboat all night long, and a big, curvy ass that you'll want to slap around. 
Every guy you know will envy you 'cause you'll be having sex that is out of this world with this hot alien chick. Leika will make you so madly aroused that you won't cum in peace!
Jackie
Imagine: you're tending your pals on a night out at a bar, and your friends seem to look at you cautiously. Yep, little do they know that a busty redhead is pleasuring your manhood under the bar stool. If you want a really sneaky night out with a dangerously kinky bombshell, keep your eyes peeled for AXB Doll Jackie.
This TPE love doll is your best option if you're craving to get in with a woman who looks oh-so angelic, but is actually devilishly horned up at all times. This voluptuous babe is a bartender in the dive bar that she works at, but she's secretly the main attraction of the place. 
Besides being the ultimate eye-candy, one of the reasons why the bar is jam-packed each night is because she keeps her customers satisfied. Once she has her eyes locked on you, there's no going back! And why would you? This dreamboat has deep, alluring eyes that stare right into your soul. Ruby red lips that smiles at you mischievously. Rosy cheeks that you want to graze your hands on. And think about her immensely huge jugs that'll make you mad! She's got an awesome ass that she likes to get slapped when she's reaching climax, too!
So next time your driving past their bar, stop by and say hi to this BBW sex doll and she'll give you the wildest night on the back alley of their bar. Kinky! 
Raiko
We get it. Some men are into a woman's flower, but are not into their other parts. If you've got this kink, surely you'll be having a hard time finding the perfect love doll for you. So if you're a guy who's looking for a realistic anime sex doll with flat breasts, then you've found the perfect woman in AXB Doll Raiko!
Raiko is an otaku vlogger girl widely famouse for her astounding beauty. Her channel's quite popular to anime fans because she features cult classics and has a solid collection of her fave animes and mangas. Besides the fact that she's a walking anime-know-it-all, she's got this undeniable charisma that will make you hooked into anime even if you've never watched one! 
She's quite a beauty too! Long, wavy auburn hair over porcelain-clear skin. Drop-dead gorgeous features and lips that'll make you want to cave in. She's a skinny sex doll and her beauty outshines others. But little does anybody know that she's looking for a man who can fulfill all of her smut hentai fantasies! She likes to get plowed so rough that she'll be begging her otaku boyfriend to stop!
Are you man enough to get into Raiko's smut sex dreams? Find out and see with this TPE love doll!
Jaja Colleen
If you're looking for a quaint and demure woman who likes to get passionate and romantic above all else, then AXB doll Jaja Colleen is definitely the perfect girlfriend material! Give in to  love and passion with this realistic TPE sex doll!
Jaja Colleen is a homegrown woman growing up in conservative upbringing in the Japanese countryside. As a young girl, she dreamt of moving into the huge city and finding true love and happiness, since she felt locked in her hometown for the entirety of her teenage years.
After years of waiting, she moved into Tokyo and made a life for herself. Even though she moved into the big, bright city, she still kept her modest and demure upbringing. She doesn't know it, but almost all guys that she meets have their eyes on her, and no wonder why!
She's got these lively cat eyes that seem to be optimistic as always. A small nose and perfectly proportioned lips that smile coyly to a funny joke. 
She's truly a beauty that gives all in love, but what men don't know is that she's a natural killer in sex. She possess modest sized but exquisite assets, and she knows how to make use of 'em! Long legs that you wanna gently peck, tender breasts that flinch at your slightest touch, and a throbbing pussy that instantly drips  after a long, passionate kiss.
So if you're looking for a sexy Asian sex doll that can balance out romance, passion and sex, AXB Doll Jaja Colleen will be the perfect girlfriend for you!
Sakura
If you're a guy whose wet dreams are lingerie models ever since puberty, then AXB Doll Sakura is the perfect TPE love doll with the most model-esque features that you can get from the entire collection!
This bombshell's body is a total sell-out when it comes to magazines, that's why she's one of the most scouted models out in the industry. She's famouse as the ultimate sex symbol of her time from her countless shoots, commercials and cameos! 
And there's no denying ! Long eyelashes over deep, enchanting eyes. A pointed nose and perfectly-shaped pink puckers! Long brown hair that looks styled even out of bed. Long, perfectly sculpted legs and a tiny waist that you would want to hook your arm into.
Not to mention the heaven that you'll be experiencing once you get to cup those big, mighty and supple breasts! She loves to bare it all during scenes, even playfully teasing the cameras with it. She's got this big, poundable ass too! Don't get her too excited on a shoot, though! Or else she'll beg you to pound her hard backstage!
So if you're looking for the perfect model-esque girlfriend, check out this sexy TPE love doll now