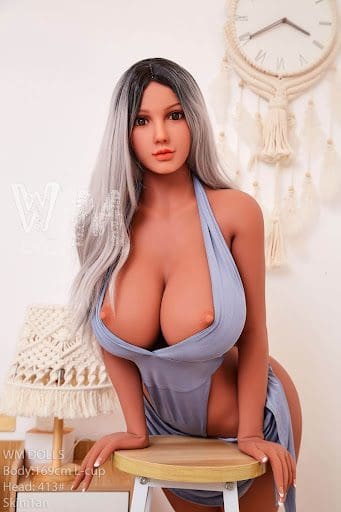 Are WM Sex Dolls realistic?
Are you planning to buy a sex doll to fulfill your sexual desires? If yes, then WM sex doll is a great option for you. WM Doll produces lifelike sex dolls and is one of the top manufacturers of realistic love dolls. When you buy a WM sex doll, you can be sure of its quality, features, and material.
The company also offers customization options like a wig, movable shoulder, standing foot, built-in or insert vagina, etc. Also, some WM sex dolls come with a heating feature to give you a more realistic feel. Moreover, sex dolls can even moan during intercourse.
Let's explore more about the WM Doll and their sex dolls!
The Company – WM Doll
WM Doll is situated in Guangzhou, China, manufacturing high-quality sex dolls for years. They spent their time understanding the world of erotic desires. As a result, they excellently produce beautiful products with delicate precision and accuracy, achieving mind-blowing and long-lasting sex dolls.
WM Dolls have an extensive gallery filled with various types of sex dolls, including TPE dolls, torso sex dolls, male sex dolls, and many more. If none of their available dolls is of your interest, they have a wide range of customization options available for WM dolls.
WM Doll makes love dolls that are realistic and human-like using silicone and TPE materials. Both these materials are safe for the environment and human use. Most of their sex dolls are made from TPE, but you can also shop for the silicone sex dolls of WM Doll.
Take a look at the WM Doll's features:
Appearance
Each WM sex doll incredibly looks like a real human. The professional and talented artist of the company uses their skills to create a realistic sex doll for men and women both. Everything feels and looks real in WM sex dolls from hair to toe. Also, there are options for certain fetishes like detachable penises for shemale options and elf ears for a fantasy feel.
Further, the feel of intimate parts like nipples, vagina, and penis makes it difficult to judge that it's a doll. Everybody part of WM dolls feels so real and looks so sexy. Even the pubic hair of a female sex doll has a very realistic feature.
Voice Features
The makers of WM sex dolls have installed motion sensors in the dolls. Also, they have attached the voice device to a body part of the doll to make it look and feel more realistic. It means a sex doll can make moaning sounds during foreplay and intercourse.
WM Dolls have their voice mechanism installed inside the head of a sex doll. In this way, the sound coming from her head will create a sense of reality that a love doll is speaking from her mouth.
Flexible Joints
WM Doll's sex dolls come with flexible joints. It means you can move them easily and can bend them in any desired sex position. Also, the fingers have flexible joints that can move similar to the fingers of a real human being.
Different Skin Shades
WM Doll is a pioneer company specializing in manufacturing different types of sex dolls which are realistic and attractive. You can get American sex dolls, Asian love dolls, African sex dolls, and many more. The WM Doll makes sex dolls in many skin shades like black, brown, fair, dusky, etc.
Also, the skin of WM loves dolls has a feeling of suppleness and unequaled softness. The TPE formula offers skin shades replicas of a Caucasian, mixed-race, or black woman or man.
Our Collection Of Sex Dolls from WM Doll
If you want to buy a realistic sex doll of WM Dolls, then check out our best collection of love dolls from this brand.
Nyomi – Russian Beauty
Nyomi is a beautiful Russian woman who is ready to serve you all time. She has a sexy curvy body with beautiful facial features. She looks exceptionally real and lifelike sex doll.
This WM Doll has beautiful wavy blonde hair and blue eyes that you will love gazing into. Her skin is made from premium quality material with great attention to every detail from wig to toe.
The skeleton of this sex doll is manufactured from quality steel with flexible joints which allow her to be positioned in any sexual pose. She can also give you the best sex experience and is best for blow jobs.
Nyomi stands 160 cm tall with stunning D-Cup breasts. Her chest measures 31.8 inches with a 23.6-inch waist and 38-inch hips.
Farah – ​​Skinny Blonde
If you are looking for the skinny WM sex doll, Farah can be a great option. She is a highly realistic sex doll, a super sexy and attractive skinny blonde. Farah stands a petite 5 feet 1.8 inches tall with elegantly beautiful B-Cup breasts and weighs 64.8 lbs.
Farah is so charming that you can't resist yourself to sleep with her in bed. Her sexy skinny body can attract any man in no time. You will love to lick her juicy pussy and give her orgasm for hours. She looks and feels like a real skinny blonde woman you dream about. Bring her home today!
Nathalia – Asian Beauty
Not only is Nathalia one of the best WM Dolls, but she is ideally suited to anyone who loves Asian beauties. Her facial features resemble exactly of an Asian woman, and she is one of the most realistic sex dolls.
Made from high-quality TPE material, she looks and feels like a real woman. Her skeleton is made from lightweight steel with movable joints. It means you can use her in any sexual position to live your fantasies. She is also capable of providing you with never-ending orgasms.
Nathalia stands 5 feet 4.9 inches tall and boasts an exceptionally sexy body with big boobs and D-Cup breasts.
Black Sex Doll
Fernanda is the black girl you always dream about. She has a charming face, big eyes, and a huge ass. Squeeze her big boobs and spank her firm ass while enjoying her vagina for your pleasures.
Her skin feels similar to the skin of an American-African woman. She is made from high-quality medical-grade material, and inside her is a quality steel skeleton with movable joints.
If you are obsessed with black beauty, then bring Fernanda home. She is not only sexy and beautiful but also loyal to her partner.
Georgia – Mini Sex Doll
WM Dolls produce mini sex dolls for those who are unwilling to buy life-size love dolls. So when you are in the market to purchase a torso sex doll, Georgia is the best choice. This beautiful torso sex doll has a sexy curvy body, a tiny waist, and a huge round ass.
She measures 62 cm from the neck to the ass and weighs around 26 kg. With such a well-sculpted sexy body and big boobs made from quality materials, you can enjoy sex for hours. Enjoy caressing her huge boobs and squeezing them to live your fantasies.
Add a dash of water-based lube and pleasure yourself with deep penetration. Her sexy boobs and ass will bounce to the rhythm of your thrusts. This glorious mini TPE sex doll comes with three holes for penetration. Her juicy pussy and big ass feel meaty and realistic to welcome your rock-hard dick.
Cecilia – Japanese Sex Doll
Cecilia is the best-selling Japanese sex doll of WM Dolls. she is 5ft 5 inches tall, with big almond-shaped eyes, sexy boobs, soft skin, and short, glossy hair. Indeed, her classic Japanese look is quite remarkable, and she looks like a real Japanese woman.
If you are obsessed with the shyness and beauty of Japanese chic, then Cecilia is a great option for you. Her innocence almost kills you and forces you to touch or feel her. Currently, she is looking for a handsome yet kind-hearted person to share bed and sexual moments with.
You can use her in any sexual position for hours. She is a loyal sex doll that will always be ready to serve you. The best part is that you can change her look with customizing options of wigs, boobs, heads, and feet offered by WM Dolls.
Leilani – Big Tits Sex Doll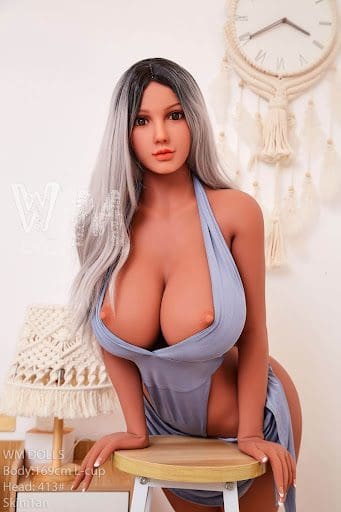 When you are looking for a big tits sex doll, then Leilani is a great choice. She not only has big tits but also comes with a moaning feature. Her really big boobs can seduce any man in no time. Also, the boobs are gel-filled, giving you the feeling of a real woman's breast.
You will love to play with her massive breasts. The body of this sex doll is made from medical-grade material and is safe to use for men and women. You can suck her nipples for hours and can rub your dick between her boobs to reach climax.
In addition to her tits, the sexy curvy body is something you can't ignore. Go deep into her and squeeze her boobs to live your fantasies. She is ready to serve you day and night without showing any tantrums. Bring her home today!
Wausi – Bubble Butt Sex Doll
Looking at the tantalizing breasts, hips, and bubble ass, Wausi is the best sex doll for ass lovers. Her sexy body, big tits, and round ass can attract you in no time. You will love to play with her boobs, nipples, and butt. Run your hard dick between her butt to live your fantasies.
Moreover, you can suck her nipples and kiss her for hours to enjoy the orgasm. Then, quench your thirst and ram your manhood inside her to feel her sexy and juicy walls. Also, you can enjoy making love to her in any sexual position anytime, anywhere. Wausi stands at 169 cm and weighs about 45kg. She is a full-size sex doll with sexy bubbly butts. Take her home now!
Celebrity Look-A-Like
As you select sex dolls to choose from WM Doll, you can go for a celebrity look alike. WM Doll produces love dolls that look like some famous porn stars to some extent. Also, you can get your love doll customized according to the look you desire. For example, you can choose the wig color that matches your favorite celebrity's hair. In the same way, you can select the breast size, eye color, head size, skin color, etc.
You may not get an exact replica of your favorite celebrity, but she is certainly as close as you will ever get to a real one. Obviously, you would have to send some extras to change her look. WM Doll creates various realistic sex dolls that you can buy from Venus Love Dolls.
Buy WM Dolls from Venus Love Dolls
Venus Love dolls are a professional sex doll seller, and currently, we have more than fifty types of WM dolls for you. You can shop for full size, torso, or male sex dolls from us at competitive prices. In addition to WM Doll, you can reach us for buying sex dolls from other brands too.
The love dolls WM Doll produces are all in the best shape of a real human beings. They feel and look like a real person. They are all manufacturers of the best quality silicone and TPE sex dolls in the world.
TPE real dolls have a body and head with the softness of human skin, enhancing your sex experience.
Final Thoughts
WM Doll produces high-quality sex dolls with a complete focus on customer satisfaction. They perform complete testing and inspection of every piece to sell the best sex doll in the market. Also, when you buy the WM sex doll from Venus Love Dolls, there will be no hidden charges or fees, the price you see is the price you pay. Everything is discreet; also, there will be free shipping for all orders.