[vc_row][vc_column][vc_column_text]
An Exclusive Guide for Sex Doll's Makeup
Do you love your sex doll, but want to make her look more attractive and beautiful? If yes, then sex doll makeup is something you need to know about.
For many sex doll lovers, the adult doll is not an inanimate object or toy. In fact, it is more than that. They consider it as their companion, a character of their fantasy world. Therefore, men usually treat sex dolls with love like a real-life partner. Most men share their feelings with a love doll and even dress them up according to their dream girl. Some also use cosmetics, new lingeries, jewelry, or temporary tattoos to add personality to their sex dolls.
If you want to enhance the beauty of a sex doll, then this sex doll's makeup guide is for you. Take a look!
Basic Knowledge of Makeup
First of all, you should understand the basics of makeup to improve the appearance of your love doll in the right way. When you buy a sex doll on Venus Love Doll, you will find that the skin feels like a human.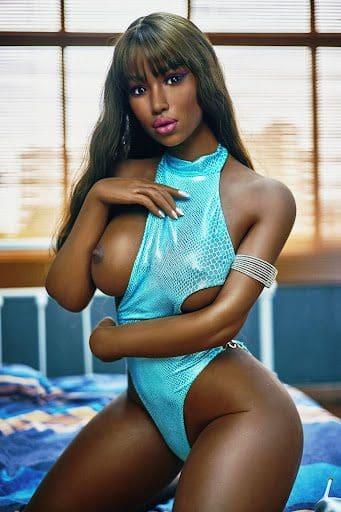 You can change their appearance by using different colors of lip glosses, eye shadows, blushers, and other beauty products. Do not be afraid of experimenting with makeup. Below are some tips to make an adult doll look sexier:
Tip 1: First, take a good makeup remover, moisturizer, or cold cream on cotton. Spread it on the face of the sex doll and gently remove the previously applied makeup. It would be great to purchase a makeup removal specially made for silicon or TPE sex dolls. While using the remover, ensure that you pull back the doll's hair or remove the wig to avoid any damage to her hair.
Tip 2: First, focus on the areas like eyebrows, lips, and eyes. Later, work on the cheeks.
Tip 3: While applying a base, don't go all fancy. Instead, apply minimum cosmetics that make you feel confident and good about your TPE doll.
Tip 4: Use an eyebrow pencil gently and fill the light eyebrows to make them look slightly thick and darker.
Tip 5: After eyebrow pencil, apply mascara on eyelashes. It will enhance the eyelashes and make a sex doll look extremely sexy.
Tip 6: Use powder blush to sharpen the cheeks of a sex doll.
Tip 7: Then, apply the lip color of your choice. Lipstick will make the lips of the doll look luscious and you will love to kiss her for hours.
Tip 8: Finally, use makeup spray on her face. It will help to make the makeup last longer.
What Type of Makeup is Safe to Use on TPE Dolls?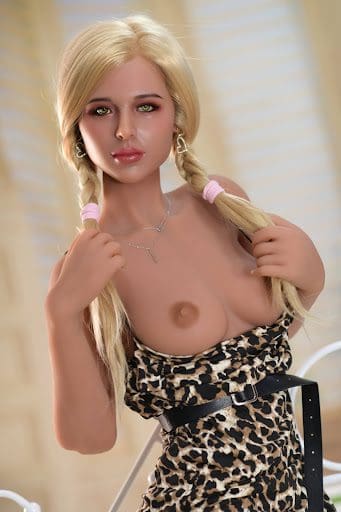 TPE is a high-quality material, which is toxic-free and causes no skin reactions. When you buy a TPE doll, you will find it very soft to touch like a real girl and can enjoy sex life. Most regular makeup products are safe on TPE sex dolls. Sometimes, it is more about selecting something that is safe for you if you are going to kiss or suck your TPE or silicone darling.
You do not have to spend a fortune on branded makeup products. You can purchase regular sex doll makeup products from a departmental store, dollar store, or local pharmacy to save money.
However, make sure to use only powder-based makeup rather than liquid or oil-based cosmetics on TPE dolls. Powders are easy to manage as you can apply them a little at a time and build them up with a brush.
Whereas oil-based pigments or liquid products often leave stains on the skin of a doll. In addition, avoid using fluorescent materials, sparkles, or glitters. They are difficult to remove from the TPE doll's face.
Jewelry and Other Accessories to Enhance the Makeup
Incorporating jewelry into the look of a real love doll is always an excellent idea. Jewelry items, temporary hot tattoos, and other accessories make your love doll look sexier. The following are some simple items you can use for the adult doll to give her a personality:
Earrings
Earrings are usually in the field of your vision while you talk to your sex doll. So, they are really important for enhancing sex doll makeup. Choose earrings that compliment her hair, eye color, and skin tone. If your sex doll has long hair, select the color or metal finish that most likely is visible depending on her hair color.
You can easily make changes to the look of your love doll by making it wear various small stud earrings. Or, add some movement and sparkle by simply making them wear dangle earrings depending on their clothes.
Necklaces
Necklaces are another good items that draw an eye on the sex doll's face. There are necklaces with different shapes, colors, or textures available that will work a treat. It is not necessary to stick with silver jewelry, gold jewelry, or rose gold jewelry. Instead, make your sex dolls wear necklaces with pendants contrasting the color of a chain to add vibrant color and interest to their outfit.
Do not shower your love doll with expensive accessories or jewelry items. Instead, you can buy them some colorful costumes or jewelry from the local shops. In this way, you can save some money and buy enough to complete the looks of your TPE doll. While making them wear makeup, jewelry, or other accessories, make sure your adult doll looks the way you fantasize.
In addition, you can also make your dolls wear some kinky items to make them look amazing, like a vixen for the night. For instance, whip necklace, bangle handcuffs, collar with leash, vibrator necklace are some jewelry items for a pleasurable sex experience.
Makeup According to the Skin Color of Sex Dolls
When you wander around the cosmetic aisle to buy makeup for your sex doll, purchase products according to its skin color. Purchasing the right shades will help beautify your love doll's complexion. Whereas wrong bronzer, concealer, foundation, or blush can give an unnatural and caked look to the sex doll.
So, let us know more about what complexion goes with which makeup colors.
African Love Doll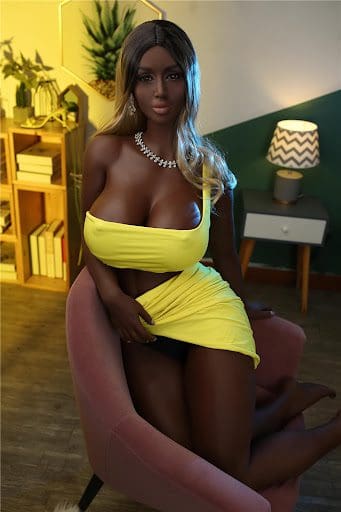 Due to hot and humid temperatures, African ladies usually have dark skin tones. The sight of an African woman with makeup seems like seeing a chocolate bar covered with honey syrup. So, with the right makeup, you can make an African sex doll look simply mind-blowing and beautiful. The following are some makeup ideas for an African sex doll:
Play with Bright Colors on their Eyes
Play safe with African sex dolls. Go for nude or bright shades or eyeshadows. Bright eye shadows are perfect for dark-skin-toned sex dolls. Try yellow, orange, red, or purple shades of eye shadow. Make sure to combine them properly while giving a transition eyeshadow look. Cut crease eyeshadows look graceful on dark-colored African fuck dolls with bright colors. In addition, use mascara and draw winged eyeliners whenever you apply bright eyeshadow shades.
Use Right Foundation Shade
Create flawless makeup that blends with the skin of an African sex doll. First, use the right foundation to give a finished look. Second, define their face by using a concealer. Finally, apply a shade darker concealer to contour the jawlines of your doll.
Apply Dark or Bold Lipsticks
Bold and dark-colored lipsticks look better on dark-skinned African fuck dolls. It makes them look fierce, confident, and sassy. For removing makeup use moisturizer or warm water with a soft cloth.
Asian Sex Doll
Asian skin-toned love dolls have a unique facial structure. Learning the makeup tips for Asian sex dolls can be a bit complicated. You can take the help of makeup tutorials available online for making Asian beauty sexier.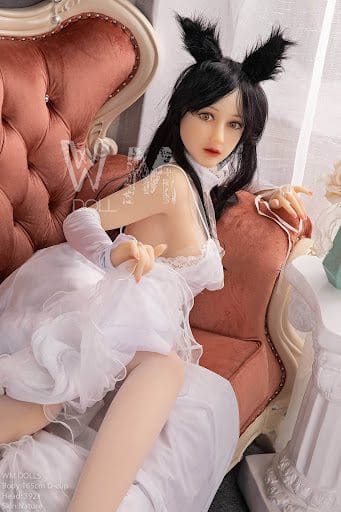 Below are some makeup tips for Asian sex dolls:
This makeup tip is for all types of Asian love dolls. First, know the skin shade. While choosing a foundation, primer, and concealer. Don't apply the foundation that is too dark or too light. Use one that matches flawlessly.
Don't be Shy of Eyeliner
Though Asian beauties are afraid of wearing intense eyeliners, Asian sex dolls look good with winged or graphic eyeliners.
Most Asian females have yellow skin undertones, so they avoid wearing makeup with an abundance of pink undertones. As pink clashes with their natural yellow skin undertones and looks bad. Similarly, avoid using makeup with pink undertones on Asian-toned sex dolls.
Asian skin dolls have smooth skin, so do not cake them with powder or foundation to get a glowing face. Instead, avoid using too much makeup to retain their natural beauty. Simply make them wear a tinted moisturizer and set it with powder.
Asian beauties can pull off purple blush beautifully because of their unique skin tone. So, apply blush with slightly darker purple or light lavender undertones for doll makeup.
Try Monochrome Eye Makeup
Usually, Asian women do not have eyelid creases. The same goes for Asian sex dolls. So, it isn't easy to apply or blend complex eyeshadow looks on them successfully. However, you can eliminate this problem by trying monochrome eye shades.
American Sex Doll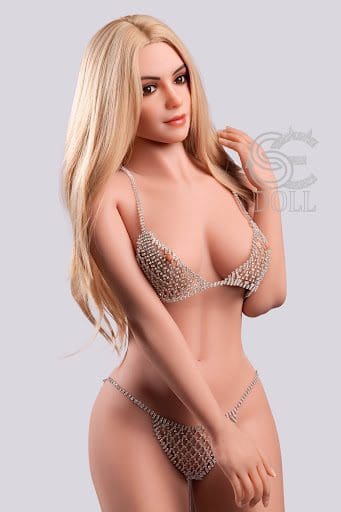 American sex dolls usually have skin tones ranging from one end of the color spectrum to the other. So, you can follow the same makeup rules as women of different ethnicities. The following are a few essential makeup tips for American sex dolls to make the most of their beauty:
Choose base shades from light to dark as per the skin tone of your life-size love doll. It is a trick to avoid an unattractive ashy undertone.
For sex dolls with clear skin, use concealer under the eyes to hide their dark spots. Then, apply a light dusting powder or baby powder to achieve a natural look.
You can make dolls with deep complexion wear bold shades. It includes bronze, gold, fuchsia, orange or silver base. Focus on their best features to draw attention and leave the rest of the face neutral.
Accentuate their eyes by using an attention-getting eyeshadow with two to three coats of mascara. You can also line them in Cleopatra-style for a beautiful and dramatic effect.
Apply a bright shade of lipstick on their lips, followed by lipgloss.
European Sex Doll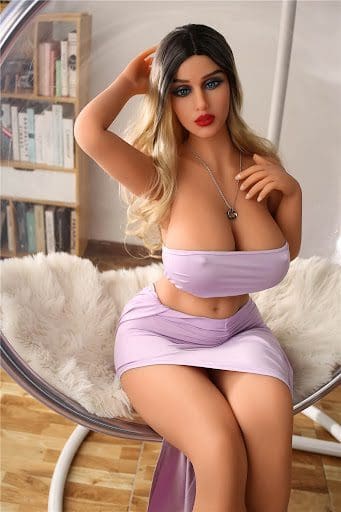 European ladies have white skin stone and beautiful eyes. If you want a European sex doll for your sex life, then you can make her more attractive with makeup. The following are some tips to achieve the perfect European look on your adult dolls:
Contour it properly to achieve distinctive sharp features and jawlines like European Women. Spread the foundation and bronzer together to make the skin shade look more natural.
Apply mascara to the front of the sex doll's eyebrows to give a stronger and more authentic look.
Use a white eyeliner underneath the brows of a sex doll and blend it out to highlight its brow area and brow bone. Then, use a brown lusher for a toned-down look. Finally, use an illuminator on the sex doll's eyebrows, forehead, and chin to give a dimensional look.
If you want to apply nude lipstick, use a concealer on the lips. Then apply nude color lipstick to make the lips of a doll look fuller to fulfill your sexual fantasies.
When not in use, remove makeup with a soft cloth and makeup removal and store the doll in a safe place.
Conclusion
Sex dolls are all about your fantasies. So, you can give an alluring look to your darling with beautiful doll makeup. With the help of the above tips, you can easily make your TPE lady look more attractive and charming. You can shop for a quality sex doll that looks more beautiful with additional makeup.[/vc_column_text][/vc_column][/vc_row]